Valerian
Valeriana officinalis
Valerian root is a time-tested herbal sedative that has been used for thousands of years for its health benefits of easing occasional sleepless nights and soothing the nervous system.*
Common Name
Valerian, Mountain Heliotrope, Garden Heliotrope
Family Name
Caprifoliaceae
Herbal Actions
Sedative, Carminative, Relaxant, Hypnotic, Nervine, Emmenagogue
Health Benefits
Relaxation, Sleep
"Be well" with this herbal sleep aid.
What are the Benefits of Valerian?
Valerian root (Valeriana officinalis) has been widely used as a gentle herbal sedative since the 1700s and is considered one of nature's great sleep aids, making it a favorite amongst herbalists for its sleep-supporting benefits.*
Classified in Western Herbalism as a nervine, it works by encouraging the body towards a parasympathetic state, known for inducing "rest and digest," which decreases the heart rate, relaxes the muscles, and prepares the body for rest.* Studied use of valerian has demonstrated the positive effects of this powerhouse herb, suggesting that valerian root is suitable for both improving sleep quality and decreasing the amount of time it takes to fall asleep.*
Folklore & Historical Use of Valerian
Valerian root is native to Europe and Asia, where it's been historically incorporated into daily routines for wellness and strength by emperors, saints, and even the "father of medicine," Hippocrates. The name, valerian, comes from the Latin word 'valere,' which essentially means to 'be well.' For us herbalists, it comes as no surprise that we use this same name to identify the medicinal plant valerian. This time-tested herbal sedative has been used for thousands of years to ease occasional sleepless nights and nervous system tension.*
Along with other ancient physicians, Hippocrates identified and documented valerian root as a carminative, emmenagogue, and an herb to ease nausea.* In the modern day, herbalists, naturopaths, and plant people rely on valerian for its affect upon the nervous system.
Botanical Description & Habitat
Valerian root is known for having a strong, earthy aroma, which many believe is a testament to the strength of valerian's medicine. While this perennial is native to Europe and Asia, it's naturalized in many woodland ecosystems worldwide including here in the United States. The most commonly used medicinal valerian, Valeriana officinalis, stands tall at about 5-6 feet and blooms brightly with pink and white flowers. It prefers some sun and partial shade and flourishes in zone 4. Bees, butterflies, earthworms, and herbalists alike adore growing alongside this medicinal. Get valerian started in your herb garden with seeds or by dividing roots to replant.
If it's herbal medicine you're seeking, have patience and enjoy their whimsical clusters of blooms until the roots reach maturation at about two to three years old. Harvest the roots in the spring or early fall and dry outdoors as their odorous fragrance is sure to permeate any indoor space.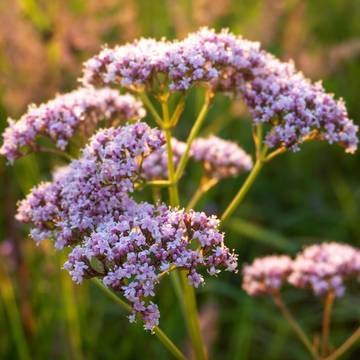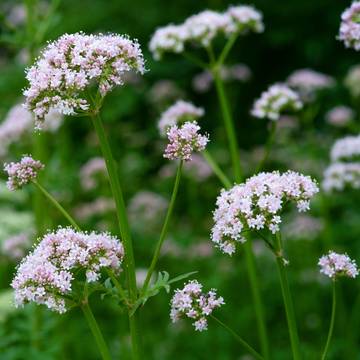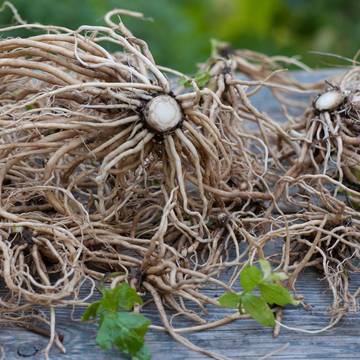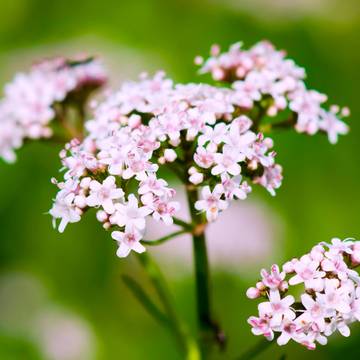 When To Use Valerian

Sleep
Consume 20 minutes before bed to speed off to dreamland.

Relaxation
Drink in late evening when you're ready to zone out.
The Business of Sustainable Plants
Our business is rooted in plants, and for us, it's a business imperative that we care for the ecosystems where these plants live and thrive. We believe that everything is interconnected, which means supporting ecosystems and the farmers and collectors who harvest and gather our herbs. Finding opportunities to reduce or eliminate emissions at the source, we support organic and regenerative farming practices as well as voluntary certifications like Organic and FairWild. These ensure the absence of pesticides, herbicides, as well as the ongoing sustainability of wild collection, and the health and livelihoods of the collectors who forage. Josef Brinckmann, Traditional Medicinals' Research Fellow, Medicinal Plants and Botanical Supply, asserts, "Everyone has a role to play in preserving biological diversity. One way of doing that is by equitably supporting the local people to serve as stewards of the land."
Fair Trade
We believe that everyone deserves a fair wage for hard work. That's one of the reasons why we're committed to fair trade. Traditional Medicinals® is a registered Fair Trade "brand holder", "licensee" and "manufacturer," and our products are certified by Fair Trade USA, an independent third-party certifier. We were an early adopter of Fair Trade, having launched our first fair trade tea product in 1998, just one year after Fairtrade International (FLO) was established. We continue to work closely with our network of producers to help them to implement fair trade standards and get certified.
This blend will help you mellow out and relax with extra help from valarian root in our strongest sleep formula
Would You Like to Set Up Auto Delivery?
Additional Information
Legal Disclaimer:
The information and other content in this article are designed to provide a general overview of the botany, cultural history, and traditional uses of this herb. It is not intended and should not be construed as health advice. Every person is unique and you should consult with your health care provider before using any herbal product or supplement.