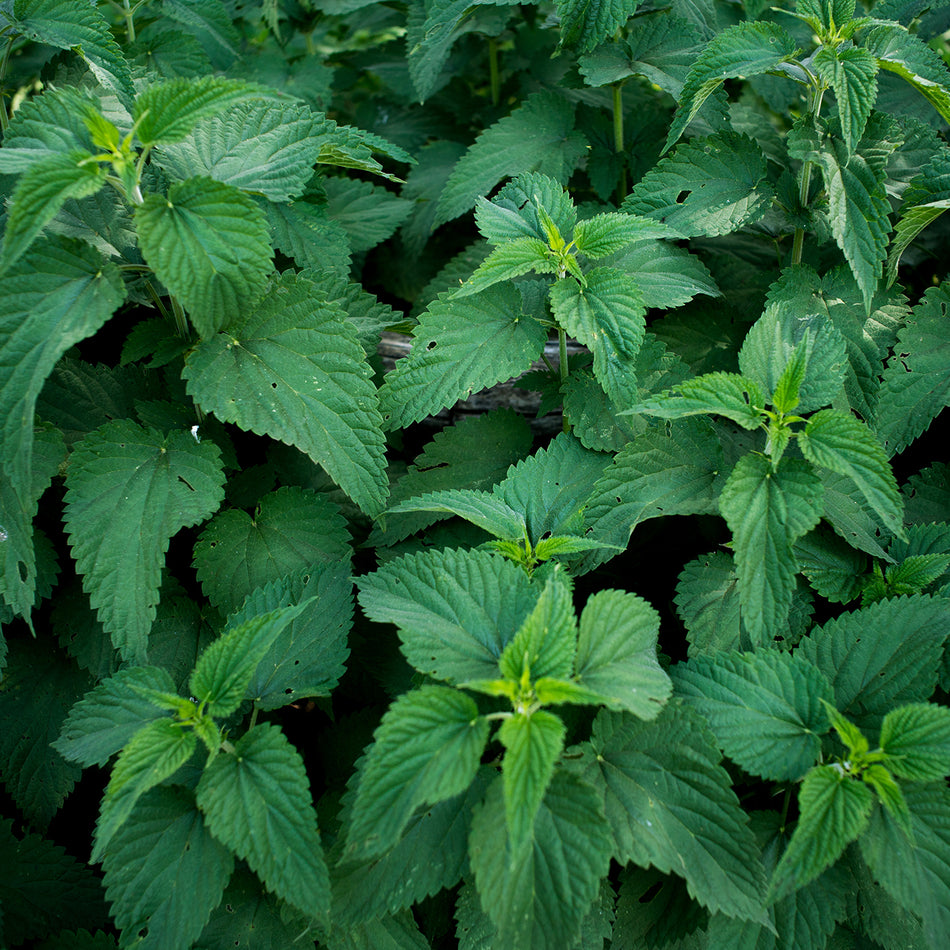 To many, nettle–also known as "stinging nettle"– might seem like a pesky weed with a needless sting. In reality, this small inconvenience yields big benefits. An herbalist favorite, nettle is used to support the kidneys and joints.*
Common Name
Nettle, Stinging Nettle, Common Nettle
Parts Used
Herb top, Leaf, Root
Herbal Actions
Astringent, Diuretic, Tonic
Health Benefits
Detox, Joint Health, Water Retention, Women's Cycle
A feisty herb that's worth the sting.
What are the Benefits of Nettle?
Underneath this fierce exterior is a nourishing tonic that works best when used consistently over time. In traditional herbal medicine, nettle leaf tea is often consumed during the spring when fresh stalks shoot up from the earth, just in time to support joints and fortify bodies as our limbs awaken from more sedentary winter months.* Herbalists also use the root and leafy top of nettle to help reduce difficulty in urination.*
Containing vitamins and minerals, namely vitamin C, K, the B group, calcium and magnesium, nettle is a robust herb found in many traditional recipes. The dark leafy greens can be used fresh in foods, juices or preserved in vinegar. As a medicinal herbal remedy, it is often prepared as a tea or tincture to support overall health throughout the year.* When touched fresh, its stinging needles may seem feisty, but fortunately the leaves lose their sting when dried, blanched, or cooked into foods and other herbal preparations.
Folklore & Historical Use of Nettle
Nettle has been used for over 2,000 years, with a well-documented history from some of the famous early Greek physicians, like Dioscorides and Galen. In Europe, the Middle East, and amongst some Native American tribes, the leaves are used to create various forms of nettle soup.
Nettle pesto, pasta, soup and bread are just a few of the many herbaceous dishes you can create with this multi-faceted herb. The ritual of bringing seasonal herbs into your kitchen brings an even deeper meaning to Hippocrates' sage words to "let food be thy medicine and medicine be thy food."
Beyond its herbal power, this strong plant is relied on across many cultures for its fiber, used in textiles, rope making and in jewelry making to string adornments onto necklaces.
Botanical Description & Habitat
Almost every part of the stinging nettle has tiny tubular hairs (trichomes) that contain biologically active substances that can irritate the skin. If pricked, the hollow hairs on live plants will release their contents into skin producing itching, burning or stinging sensations.
Like many of our well-loved "weeds," nettle is now found all around the world – often attributed to human intervention and migration. Its native home is in Asia, Europe, and northern Africa. Stinging nettle tends to prefer a rich soil and is seen by some as an indicator of fertile land. You can usually find it in wetter environments growing as a hedge bank, in wastelands, or other disturbed areas. Nettle tends to thrive where more particular plants wouldn't. The whole plant, including roots, leaves, and seeds, can be used in herbal medicine. We wild collect some of our favorite organic nettle leaves from Eastern Europe, where our partners have stewarded the land for generations.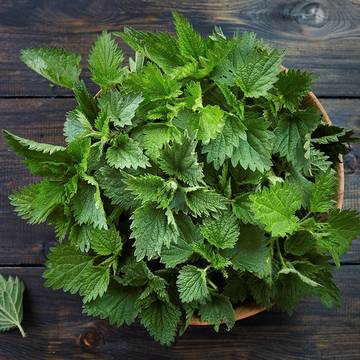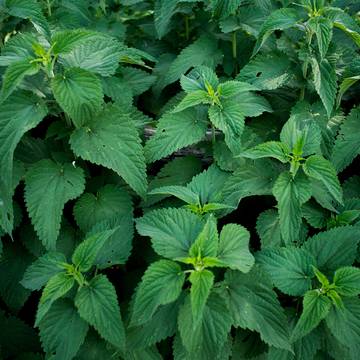 When To Use Nettle

Joint Health
Midday to support mobility.

Water Retention
Occasionally to encourage urination.

Women's Cycle
Around menstruation for fortified support.
Nettle Leaf supports joint health and overall wellness
This blend promotes healthy skin and supports the body's natural detoxification process
Nettle Leaf Tea
Organic Nettle Leaf tea supports joint health and...
View Full Details
Would You Like to Set Up Auto Delivery?
EveryDay Detox® Lemon Tea
Organic EveryDay Detox Lemon tea promotes healthy skin,...
View Full Details
Would You Like to Set Up Auto Delivery?
Pregnancy® Tea
Pregnancy Tea brings together raspberry leaves and tonifying...
View Full Details
Would You Like to Set Up Auto Delivery?
Additional Information
Important Precautions:
Consult your healthcare practitioner prior to use if you are diabetic or if you are pregnant or breastfeeding. In sensitive individuals, nettle leaf preparations may occasionally cause mild gastrointestinal upset.
Legal Disclaimer:
The information and other content in this article are designed to provide a general overview of the botany, cultural history, and traditional uses of this herb. It is not intended and should not be construed as health advice. Every person is unique and you should consult with your health care provider before using any herbal product or supplement.