Learn More About
Senna Teas
Need to speed things along? Senna is used for just that. This herbal laxative is an herbaceous way to relieve occasional constipation.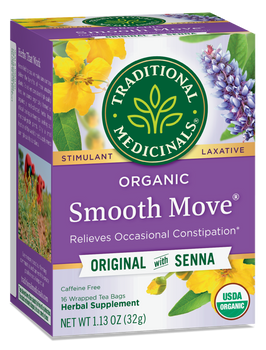 Featured Senna Teas
Organic Smooth Move
This organic laxative tea relieves occasional constipation, generally within 6-12 hours.
Shop Now
Whether you're traveling, tense, or just simply need to go number two, the benefits of senna tea are incomparable. You might be wondering, "What does senna do to your body?" Senna leaves and pods contain unique herbal compounds called sennosides that produce laxative effects to relieve occasional constipation. They work by gently stimulating your intestines and aiding your body's natural elimination process thus increasing transit time and motility.
As herbalists, we insist on using the whole plant, rather than an extraction of a single chemical compound. The leaves and pods of the plant contain higher amounts of sennosides, which is why we always use aerial parts of the plants and insist on regular testing. These unique compounds are crucial in making your number twos finally feel like a number one priority!
Given its effects, its best to take senna right before bed so that you don't have to go when you're out and about. It generally takes 6-12 hours to kick in, giving it enough time to work its magic while you're comfortably in dreamland.
The medicinal uses of senna have been documented since around the 9th century AD by Arabian physicians. More recently, its residue has been found in Egyptian pottery jars dating to about 3150 BCE. While we generally consume this herb as tea, ancient artifacts suggest senna was preserved and used as a medicated wine, and taken as powders, decoctions and syrups before that time. Arabian physicians are credited for bringing senna into the European medical system, and since then, many formulas have been made to round out senna's stimulating effects.