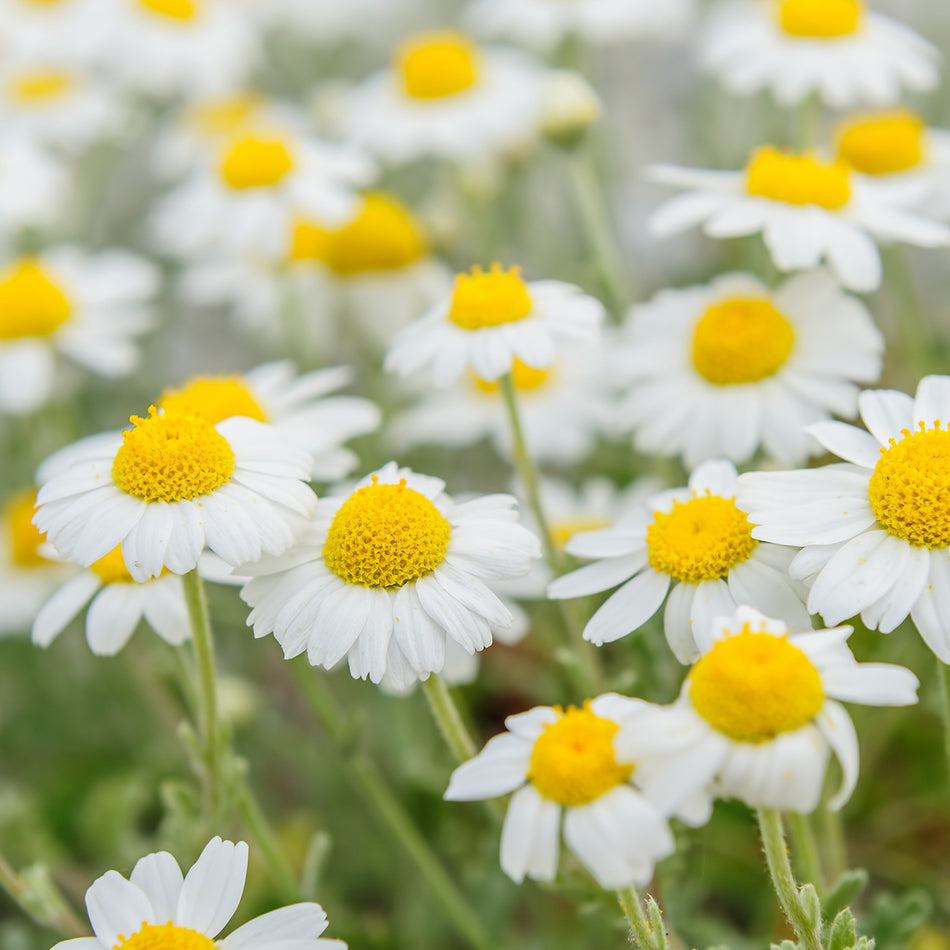 Chamomile
Matricaria chamomilla
Utilized in many households to comfort bellies and induce relaxation, a simple cup of chamomile tea may be one of the most common staples of household herbalism.*
Common Name
Chamomile, German Chamomile, Water of Youth
Herbal Actions
Anti-inflammatory, Antimicrobial, Antispasmodic, Bitter, Carminative, Muscle relaxant, Nervine, Vulnerary
Health Benefits
Digestion, Relaxation, Sleep, Stress Relief
The tiny daisy that soothes minds & comforts bellies.
What are the Benefits of Chamomile?
Like a humble daisy, the tiny chamomile flower doesn't claim much spotlight, but its impact on herbal medicine and folklore is undeniable and enduring. And with good reason: chamomile is rich in azulene, an aromatic essential oil that has worked its herbal magic throughout history for a variety of uses.
As many pioneering experimenters have learned over time, simply soaking the fragrant flowers of chamomile in hot water or alcohol produces an elixir that has the ability to both calm the body and soothe occasional digestive troubles.* It is this dual affinity towards both the nervous and digestive systems which makes chamomile ideal for times when the effects of momentary nervousness or anxiety are felt in the belly.*
As a nervine and mild herbal sedative, chamomile is a comforting bedtime companion to support sleep and restlessness, while its antispasmodic and carminative characteristics soothe occasional cramps in the gastrointestinal tract and can assist with uncomfortable gas, flatulence, and overall digestion.*
Folklore & Historical Use of Chamomile
Chamomile's apple-y aromatics first gave the herb its common name, derived from the original Greek chamaimēlon, or "earth-apple." Ancient cultures were the first to sing the herb's praises. The ancient Greek physician Dioscorides and naturalist Pliny the Elder prescribed it, Egyptian women mixed it with crushed rose petals to apply to their skin, and before modern preservation techniques were available, cooks soaked rancid meat in chamomile to mask unpleasant odors. In the Middle Ages, when hygiene was particularly difficult, people scattered chamomile on floors to help repel vermin and pests and to serve as a natural deodorizer. For hundreds of years, farmers have planted chamomile as a cover crop to attract beneficial insects and repel the pesky ones.
Throughout history, herbalists and physicians used chamomile for a variety of reasons. The ancient Greeks used it to support women's health, the Egyptians used it to mummify bodies, and the Anglo-Saxons considered it one of their nine sacred herbs. By the Middle Ages, monks narrowed in on chamomile's ability to soothe digestion and calm the nerves, and herbalists recommend it for those same reasons today.*
Botanical Description & Habitat
There are several species of chamomile, but at Traditional Medicinals, we use Matricaria chamomilla, a member of the Asteraceae (or daisy) family. Also known as German chamomile, it is composed of white daisy-like petals and yellow composite disc florets.
Found in populated areas and temperate climates, it can stand up to 24 inches high in full sun. It often grows near roads, in disturbed areas, and in cultivated fields as a weed, because the seeds require open soil to survive. You can spot the flowers blooming in early to midsummer, but your nose might identify them sooner by their strong, honey-apple fragrance.
To qualify for our teas, harvesters gather the plant with large metal combs, designed to pick just the flowers, thereby isolating the most medicinal source of the plant from the leaves and stems.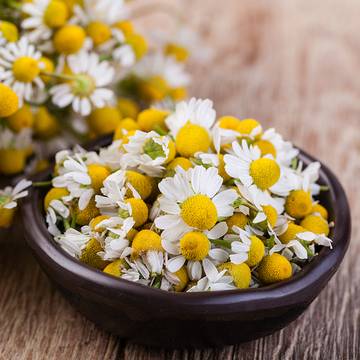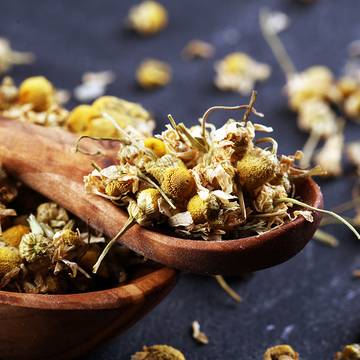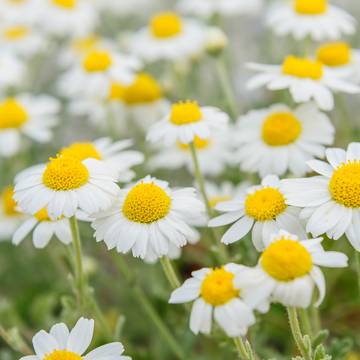 When To Use Chamomile

Relaxation
Sip any time of day to relax

Stress Relief
Keep handy during stressful periods in life

Sleep
Drink 20 minutes before bed for gentle zzzzzs

Digestion
Enjoy after meals and when you need help relieving trapped gas
Chamomile calms your nerves and supports healthy digestion
This blend is calming and relaxing when you need it most
This blend settles your nervous system when stressed and eases tension
Chamomile Tea
Fragrant and floral with honey notes, organic Chamomile...
View Full Details
Would You Like to Set Up Auto Delivery?
Would You Like to Set Up Auto Delivery?
Chamomile & Lavender Tea
Organic Chamomile Lavender tea settles your nervous system...
View Full Details
Would You Like to Set Up Auto Delivery?
Additional Information
Important Precautions:
Do not use this product if you are allergic to plants in the daisy (Asteraceae) family. Consult your health care practitioner prior to use if you are pregnant or breastfeeding.
Legal Disclaimer:
The information and other content in this article is designed to provide a general overview of the botany, cultural history, and traditional uses of this herb. It is not intended and should not be construed as health advice. Every person is unique and you should consult with your health care provider before using any herbal product or supplement.