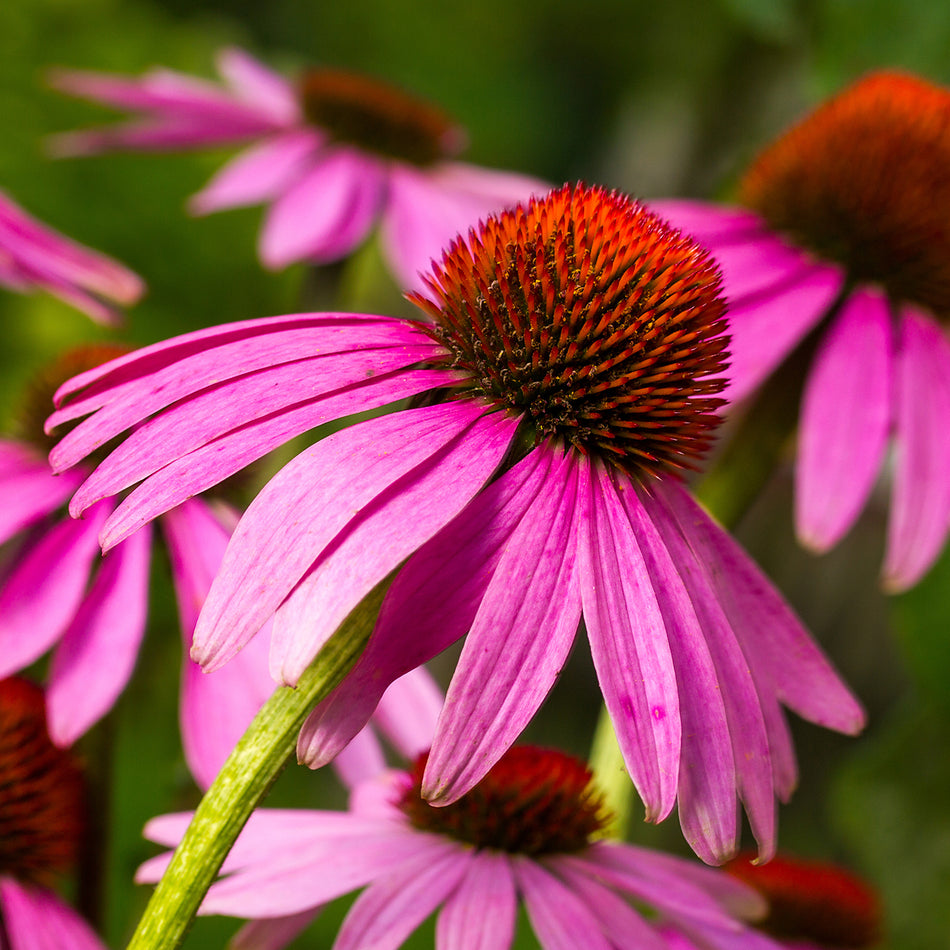 Echinacea
Echinacea purpurea, E. angustifolia, E. pallida
Utilized by Native American peoples as an all-purpose remedy for generations, echinacea now finds itself in everything from tea and tincture, to supplement tablets, for its contribution to immune support.*
Common Name
Echinacea, Purple (pale and narrow-leaved) Coneflower, Toothache Root, Kansas Snakeroot
Parts Used
Leaf, Flower, Root
Herbal Actions
Immuno-stimulating, Alterative
Health Benefits
Immunity, Seasonal Care, Throat Health
Echinacea, a staple for immune support.
What are the Benefits of Echinacea?
When it comes to maintaining seasonal wellness, echinacea is an essential supportive herb during the winter cold . The key to echinacea's medicinal benefits lies deep in its compounds, which, depending on the species, include varying amounts of alkylamides, polysaccharides, and glycoproteins—all of which contribute to the herb's affinity for the immune system.*
Echinacea's beneficial compounds are found in all parts of the plant, but are most concentrated in the roots. The tingly alkylamide molecules in echinacea which fire up immunity are best preserved in ethanolic extracts. The polysaccharides and glycoproteins fortify the immune system over time and are best extracted with hot water, making a hot tea one of the best ways to enjoy the benefits of this herb.* Of the two most commonly used species of echinacea, E. angustifolia and E. purpurea, E. angustifolia is considered to have more immune-boosting phytochemistry.*
Folklore & Historical Use of Echinacea
The entire Echinacea genus is indigenous to North America and originally dwelled in prairie lands, where Native American tribes have used it as an all-purpose herbal remedy for generations.
In the mid-1800s the American Eclectic physicians began to use echinacea and its use spread to Europe, where it gained even more popularity. By the beginning of the 20th century, it was one of the most frequently plants used herbal medicines in the United States, which eventually led to the widespread overharvesting of this wild perennial. Thanks to the conservation and public education efforts of the United Plant Savers, cultivated echinacea is now available for widespread use in many regions of the world.
Botanical Description & Habitat
Echinacea is a coarse, rough-hairy, herbaceous perennial that is native to moist prairies, meadows and open woods of the central to southeastern United States.
All members of the Echinacea genus are perennials that bloom with both disk and ray flowers. The purple ray flowers attach to a round, high and spiky cone—hence its common name "purple coneflower." Technically speaking, this cone is actually composed of hundreds of flowers, all tightly packed together, which is how the plant got its botanical name: echin, derived from the Greek word ekhinos for "hedgehog."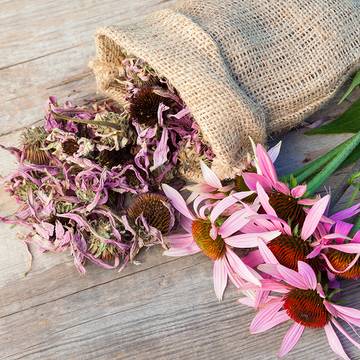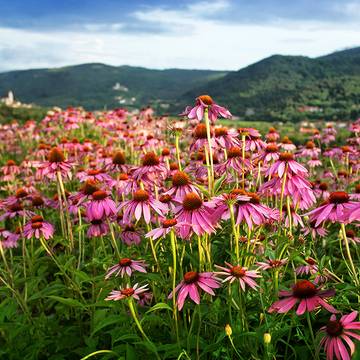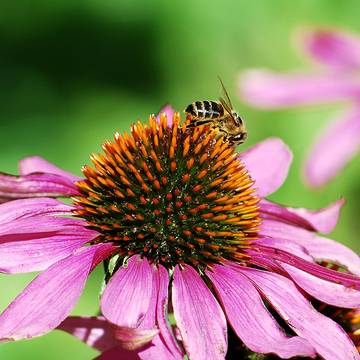 When To Use Echinacea

Immunity
Drink consistently at the onset of immune support needs.

Seasonal Care
Keep handy once the weather turns cold.
This blend boosts the immune system
This blend supports throat health and boosts the immune system
Echinacea Plus® Tea
Organic Echinacea Plus tea fires up the immune...
View Full Details
Would You Like to Set Up Auto Delivery?
Echinacea Plus® Elderberry Tea
Organic Echinacea Plus Elderberry tea boosts the immune...
View Full Details
Would You Like to Set Up Auto Delivery?
Throat Coat® Lemon Echinacea Tea
Our organic Throat Coat® Lemon Echinacea tea supports...
View Full Details
Would You Like to Set Up Auto Delivery?
Additional Information
Important Precautions:
Consult your healthcare practitioner prior to use if you are pregnant or breastfeeding; or if you have an auto-immune or other immune system disorder, or of you are taking immunosuppressants.
Contraindications:
Do not consume this herb if you are allergic to plants in the daisy (Asteraceae) family, such as chamomile or Echinacea. Not recommended for use with children under 12 years of age.
Legal Disclaimer:
The information and other content in this article is designed to provide a general overview of the botany, cultural history, and traditional uses of this herb. It is not intended and should not be construed as health advice. Every person is unique and you should consult with your health care provider before using any herbal product or supplement.