Eucalyptus
Eucalyptus globulus
Eucalyptus leaves have been used to breathe in benefits supporting the respiratory tract for generations.*
Common Name
Southern Blue Gum, Blue Gum
Herbal Actions
Antispasmodic, Stimulant
Health Benefits
Immunity, Respiratory, Seasonal Care, Throat Health
Eucalyptus, a recognizable fragrance with big benefits.
What are the Benefits of Eucalyptus?
The essential oil-rich leaves of eucalyptus are used in steams, syrups and lozenges to support the respiratory system, as an essential oil for cleaning, and in teas for respiratory support like our Throat Coat® Eucalyptus and Breathe Easy® blends. Specifically, its primary essential oil, eucalyptol (1,8-cineole), which is present in other aromatic herbs like peppermint, rosemary, and sage, is ideal for supporting chest and throat health.*
Eucalyptus leaves have an incredibly refreshing mint-like taste, which provides an invigorating touch of comfort when you need it most. It's a great ally for winter or times of occasional stuffiness. In fact, many herb lovers like to bring the leaves inside and hang them in moist environments like bathrooms and showers to experience its aroma more frequently. Because of its powerful medicinal profile and incredible growing power, it's no wonder this plant is a cherished traditional plant medicine that has made its mark worldwide.*
Folklore & Historical Use of Eucalyptus
Botanists have long been fascinated by this fast-growing gum tree, which excretes a sticky antibacterial resin to deter pests. Starting in the late 1700s, people began to propagate eucalyptus abroad with hopes to mitigate the challenges of their rugged ecosystems – such as reducing moisture in mosquito-prone habitats, rebuilding forests after rampant deforestation, or providing cover for areas that needed giant wind breaks. Some were just plant lovers who wanted to propagate the tree solely for its novelty. Others saw the plant as a get-rich scheme, and in the late 1800s, one developer planted over eight million eucalyptus trees on a fourteen-mile strip from Berkeley to Oakland, California. Spoiler alert, it wasn't a good idea, nor was it profitable.
It turns out that the ubiquitous California eucalyptus has proven to be more harmful than helpful. The plant loves water, and at the same time, is fuel for fire. But, its resilience and abundance are true testaments to this plant's power, and it provides so many different resources. The wood from eucalyptus can be used for timber, fuel, or even—didgeridoos! The bud caps make rather cute buttons, and the leaves are prized by herbalists for herbal medicine making.
Botanical Description & Habitat
There are over eight hundred species of eucalyptus, ranging from tall flowering trees to smaller shrubs. They're all indigenous to Tasmania and Australia, but like other medicinal plants, eucalyptus can grow (and thrive) on almost every continent.
You may have noticed it before, the tree has a unique peeling bark and brightly colored fuzzy flowers—or more technically, stamens. While there are many shapes and sizes to eucalyptus leaves, this medicinal species has long, narrow leaves that are very aromatic. It tends to grow in hot to temperate climates, but doesn't do well in freezing temperatures. The leaves are famously eaten by koala bears, in its native habitat of Australia.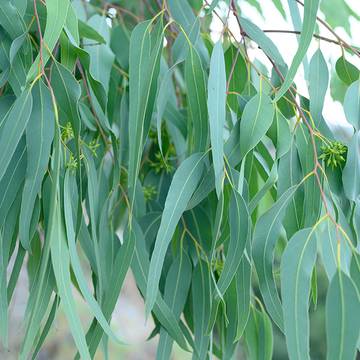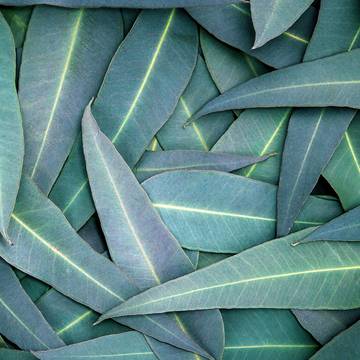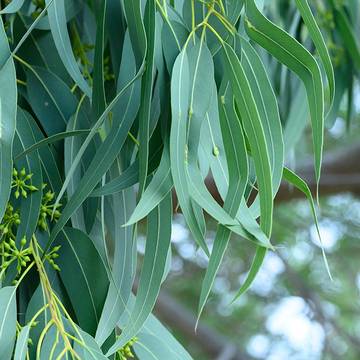 When To Use Eucalyptus

Immunity
Pair with echinacea when your system needs a boost.

Respiratory
Breathe deeply and sip slowly when in need.

Seasonal Care
Keep stocked in your cold weather apothecary for surprise moments.

Throat Health
Combine with soothing herbs like slippery elm and marshmallow.
This soothing blend supports throat health and the respiratory system
This blend promotes respiratory health like a breath of fresh air
These herbal lozenges soothes sore throats & relieves coughs
Throat Coat® Eucalyptus Tea
Throat Coat® Eucalyptus tea supports throat & respiratory...
View Full Details
Would You Like to Set Up Auto Delivery?
Breathe Easy® Tea
Breathe Easy tea promotes respiratory health like a...
View Full Details
Would You Like to Set Up Auto Delivery?
Throat Coat® Eucalyptus Mint Lozenges
Throat Coat® Eucalyptus Mint Lozenges relieve occasional coughs...
View Full Details
Would You Like to Set Up Auto Delivery?
Additional Information
Legal Disclaimer:
The information and other content in this article is designed to provide a general overview of the botany, cultural history, and traditional uses of this herb. It is not intended and should not be construed as health advice. Every person is unique and you should consult with your health care provider before using any herbal product or supplement.