We don't just talk the talk – we want to walk the sustainable walk. To be a truly responsible business, we manage and measure our environmental impact and strive to minimize our footprint. The old adage "You can't manage what you don't measure" is really true in our experience.
Since our beginnings, we've been striving to minimize waste, prevent pollution and conserve resources. Working sustainably involves everyone at Traditional Medicinals, from our sales representatives (many of whom drive hybrid electric vehicles or alternative fuel vehicles) to the operations and quality control folks (who produce our teas at a solar-powered manufacturing plant in Sebastopol, CA).
Energy Use
Traditional Medicinals headquarters uses 100% local renewable energy. Much of our energy is produced on-site at our factory using r
ooftop solar panels and we source geothermal energy from
Sonoma Clean Power for the remainder. The net result is about 1 million kilowatt-hours of green power used per year. In addition to investing in renewable energy, we've implemented energy conservation and efficiency practices like installing energy-efficient lighting fixtures, occupancy sensors, programmable thermostats, and using only Energy Star® rated appliances and equipment.
Sonoma Clean Power's geothermal energy is sourced from Calpine Corporation's power plants located at The Geysers less than 50 miles from Traditional Medicinals headquarters.
Solar Power:
In 2008, we installed 1,450 solar panels at our herbal tea manufacturing plant in Sebastopol, California. During the sunny summer afternoons, the solar panels may actually produce 100% of our electricity, and we even send some back into the power grid. On average, our solar panels produce about 40% of our electricity use, including all our office and warehouse locations. For more information, check out our Annual Sustainability & Benefit Report.
Carbon Offsetting:
We purchase Carbon Offsets from Bonneville Environmental Foundation for the natural gas we use to heat our facilities and are building our corporate carbon footprint measurement, including assessments for key ingredient supply chains.
Water Use
We use well water at our main location in Sebastopol but municipal water at our Marketing and Sales Services Offices in Petaluma. Our main location is also a dry process facility in both production and cleaning procedures. Motion sensor faucets and low flow toilets are in place. The water usage is tracked on a daily usage basis, with a target of 7 gallons per employee per work day. Our septic system is designed to keep within the water usage goal.
Waste Output
At Traditional Medicinals we strive towards Zero Waste by composting all food and plant discards, and by having eliminated the use of disposable products in our kitchen (like paper or plastic dishes, utensils, and single serve water bottles), by recycling all recyclable resources such as paper, plastics, cardboard, glass, and aluminum, and by reusing equipment or giving still usable items to our employees or to local non-profits.
Our sources of waste in production include dry herbal materials, damaged or defective packaged tea bags, folding cartons and corrugated boxes. Waste herbs, herb dust and blends are used in our compost system. All recyclable materials, mainly cartons and corrugated boxes are recycled through a local company. We track waste throughout the entire production process.
For more information regarding our annual energy usage, well water consumption and waste output, check out our 2014 Sustainability Report.
Green Power Leadership
In 2015, Traditional Medicinals received a Green Power Leadership Award from the U.S. Environmental Protection Agency (EPA), recognizing users in the voluntary green power market.
"Using green power helps accelerate the development of new renewable energy capacity nationwide and helps users reduce their carbon footprints." – U.S. Environmental Protection Agency (EPA)
California Certified Green Business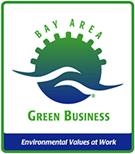 The California Green Business Program is a government program working with local agencies to recognize and assist businesses that operate in an environmentally friendly manner.
Traditional Medicinals® became California Green Business Certified in 2013. To become certified, a business must focus on environmental efforts such as waste reduction, water conservation, energy conservation, and pollution prevention. We showed that we had taken actions to conserve resources and prevent pollution in both our facility (green building and renewable energy) and our operations (environmentally-preferable purchasing and other practices). Credit worthy action items were verified through onsite assessments by an auditor from the local agency, the Sonoma County Green Business Program.
Carbon Footprint

Carbon footprint calculations can be hard to wrap your mind around. A company's Carbon Footprint is the amount of greenhouse gases (GHG) and specifically carbon dioxide (CO2) that has been emitted through all activities of the company in the manufacture and transport of their products. By keeping a close eye on our carbon footprint, we can take steps to minimize our impact on climate change.
We work with Soil & More International (SMI) to help us calculate our corporate carbon footprint. Founded in 2007, SMI developed a Carbon Footprint Calculation model that has been certified by TÜV NORD CERT GmbH, an independent third party organization that is accredited for Carbon Footprint Verification according to the ISO 14064 standard (an international environmental management standard against which greenhouse gas (GHG) emissions reports are voluntarily verified).
The methodology that SMI used to assess our corporate carbon footprint was developed by the UK's Department for Environment, Food and Rural Affairs (DEFRA) as well as the GHG Protocol of the World Resources Institute and the World Business Council for Sustainable Development. Both methodologies are based on the ISO standard 14064.
The corporate carbon footprint study carried out by SMI last year showed a result of 517,731.68 kg of carbon dioxide equivalents (CO2e) emissions. SMI's study concluded that due to our significant efforts in green energy and energy efficiency, the share of energy-related emissions is low by comparison to other comparable-sized companies in same industry. We have taken measurable actions to reduce and green our energy related emissions through our installation of solar panels and the purchase of green energy certificates that support wind power. Being an internationally active company, SMI expected that our travel would likely contribute the most to our carbon footprint. That proved to be true with about 65% of our CO2e coming from commuting and business travel of employees.