Herbal Power
This blend helps maintain mental calm and a focused mind under occasional stress
Taste
Sweet and soothing, perfectly balanced with warming, comforting spices
Personality
Passionate, romantic and endearing
Caffeine Level
Caffeine Free
Herbal Power
This blend helps maintain mental calm and a focused mind under occasional stress
Taste
Sweet and soothing, perfectly balanced with warming, comforting spices
Personality
Passionate, romantic and endearing
Caffeine Level
Caffeine Free
The ZIP Code you entered was not found.
Please try again.
FAST & FREE Delivery Over $45
Order by:
5pm
— Receive it
*
with FREE Shipping on Orders Over $45
---
Shipping to another address?
Find In A Store Near You
Herbal Origins
Created by our herbalists, this vanilla tea for stress is like an herbal hug. Infused with herbs for comfort like the luxurious vanilla bean, and spices like cardamom and anise. Experience the herbal power of eleuthero, an adaptogen that protects against the depleting effects of occasional stress, to restore the spirit. When taken daily, eleuthero can promote a healthy response to stress over time. A flavored tea to transport you right back into the present moment. Get cozy and sip slowly.*
Ingredients
Organic oat herb, Organic roasted chicory root, Organic rooibos herb, Organic vanilla extract granule, Organic anise fruit, Organic cardamom seed, Organic stevia leaf, Organic vanilla bean, Organic cinnamon bark, Organic eleuthero root dry aqueous extract 19:1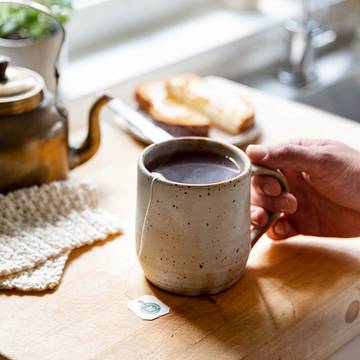 How to Enjoy:
Pour 8 oz. freshly boiled water over 1 tea bag.
Cover & Steep for 10 min.

Squeeze & REMOVE tea bag to ensure maximum goodness.

Enjoy up to 4 cups per day.

Your Recipe For Success
How To Get The Best Brew Watch Now
What Our Community Is Saying