Hemp+Herb Mental Focus Guayusa Mint Tea
Herbal Power
This blend helps support mental alertness
Taste
Minty and lightly roasted
Personality
Focused, determined and successful
Caffeine Level
Contains Caffeine
Would You Like to Set Up Auto Delivery?
Herbal Power
This blend helps support mental alertness
Taste
Minty and lightly roasted
Personality
Focused, determined and successful
Caffeine Level
Contains Caffeine
The ZIP Code you entered was not found.
Please try again.
FAST & FREE Delivery Over $45
Order by:
5pm
— Receive it
*
with FREE Shipping on Orders Over $45
---
Shipping to another address?
Find In A Store Near You
Herbal Origins
Guayusa and yerba mate, native to South America, are plants used to promote mental focus due to their naturally occurring caffeine content. Our herbalists have formulated this blend to include eleuthero and broad spectrum hemp extract. Designed as a naturally caffeinated energy tea, this tea is a great pick me up any time of day.
Ingredients
Organic eleuthero root aqueous extract 12-25:1, Hemp herb soft extract 50-70:1, Organic guayusa leaf, Organic mate leaf roasted, Organic spearmint leaf, Organic peppermint leaf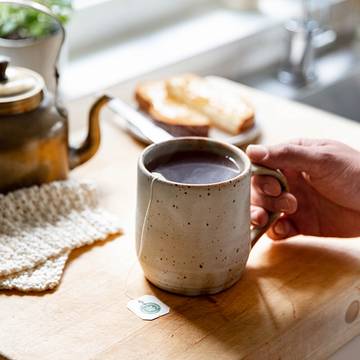 How to Enjoy:

Pour 8 oz. freshly boiled water over 1 tea bag.

Cover & Steep for 10-15 min.

Squeeze tea bag to ensure maximum goodness.

Enjoy 2 cups per day.
What Our Community Is Saying