Our Executive Team
Garden geeks, free-thinkers, dog lovers, and deeply devoted, well-trained, passionate people.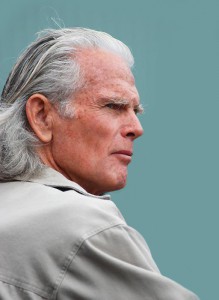 Drake Sadler
Co-Founder, Chairman of the Board and Chief Visionary Officer
In the early 1970's, Drake Sadler was a community activist who believed that empowered people could change the world for the better. His mission was to promote the knowledge of Traditional Herbal Medicine, while creating fair and equitable trading relationships with the mostly impoverished people around the globe who collect and grow medicinal plants. For the past four decades, Drake has guided Traditional Medicinals through a time of incredible change, leading people to a newfound respect for herbalism.
As Drake said recently: "With the support of our health conscious consumers and the introduction of organic agriculture, we have developed a unique business strategy which reduces poverty and hunger, rebuilds families and restores their self-sufficiency, and provides economic stability in the rural indigenous communities where our herbs come from. Herbal experts from Traditional Medicinals are constantly working to improve herb quality and social conditions in these communities, but it isn't necessary to travel to distant native villages to see that the entire planet desperately needs new social business models which are non-exploitive, free from discrimination, environmentally sustainable, nurture our spirits and serve humanity."
Traditional Medicinals has pursued the rigorous process of getting nearly every product certified organic, and many also certified Fair Trade and now Fairwild. We've also built strong relationships with supply partners that affect real change.
For Drake, Traditional Medicinals is a vision realized, and after all these years, the ideals he started out with remain fundamental to the core values of the company.
Gary Gatton
Chief Executive Officer
Gary joined Traditional Medicinals in January 2013 to lead our sales efforts. After spending more than 25 years managing sales at national food and consumer goods companies, including a 10-year stint selling Kashi brand in the U.S. and Canada, Gary found he wanted to use that experience for a more purpose-driven business in the health and natural foods sector.
In his role as Chief Customer Officer, Gary was instrumental in driving growth and expanding distribution beyond our roots in natural grocery to conventional grocery and e-commerce. In April 2022, Gary was promoted to the role of Chief Executive Officer.
His past positions have included leading Kellogg's global Walmart business, leading sales for Canada and running Trade Marketing and Shopper Marketing. He has also held several positions in sales for both Procter & Gamble and Pillsbury. Gary earned a BS in Finance from Ball State University.
Delia Diaz 
Chief Financial Officer
Delia may have grown up a savvy city girl from the North Side of Chicago, but coming from a farm family with Cuban roots, she can't help but have the heart of a country girl. For Delia, food is about family and community. The food and beverage sectors have been a staple in  her career, and a fundamental component of her strong family life.
For Delia, finance is the connection point of any enterprise, allowing the entire company to understand how the  money is made, how it is spent, and what it can do.  "Nobody rolls out of bed to hit a number. You want to create something or help somebody," she explains.
Delia believes that there is plenty of fun to be had in focusing on the fundamentals—that when every business understands the reasons behind financial decisions, they can connect all their stakeholders to the overall strategy. In the food and beverage sectors, she believes this is essential. In an industry where it is a challenge to cover costs, every person in the supply chain needs to be committed if they are going to add value to delight the consumer.
Earning  her CPA and Bachelors of Science in Accounting from DePaul University in 1985, and then  a Masters of Management in Marketing and Strategy in 1991 from Northwestern University's prestigious Kellogg Graduate School of Management, Delia's career trajectory has led her to  Arthur Andersen & Co., Kraft Foods, and Mars Petcare, among others.
In her free time, Delia is regularly on the move. As an avid traveler, she's had the opportunity to visit over 50 countries across all continents of the globe. She also loves sports and the outdoors, spending her free time hiking or cycling.
Dale Perrott
Chief Supply Chain Officer
Dale believes that well-designed sourcing choices will positively shape the world in which we live.
He has seen the significant impact sourcing has on people, the pivotal role of sustaining the planet, and the regeneration of our natural resources. Through design and deliberate strategy, he knows that sourcing can help to nourish our health and well-being, build inclusion and equity, and create a lasting trust with our consumers through supply chain transparency.
Dale, a global business transformation executive, has over 30 years of experience directing supply chain and operations to integrate complex business systems. He is known for leading dynamic teams responsible for adaptable supply initiatives and identifying opportunities in developing strategic business plans.
His career includes global supply chain and process improvement management at Florists Transworld Delivery, Starbucks, E&Y/Capgemini, domestic and international supply and technical positions at Gatorade (Quaker Oats Company). He has a BBA, Transportation/ Logistics from Iowa State University, and an International Logistics Certification from the University of Tennessee.
Dale is known for tackling seemingly impossible tasks using an agile root cause assessment and innovative designs processes. His goal is to develop repeatable and sustainable solutions that meet business needs. The bigger the challenge, the more he likes it.
Dale has a personal interest in sustainable energy alternatives and enjoys becoming involved with local charitable causes and non-profit organization boards and committees. In his spare time, Dale likes to relax by taking extended cycling adventures. He has pedaled across many states, including several infamous annual RAGBRAI rides and cycling tours in the French Bordeaux and parts of Mexico!
Jamie Horst
Chief Purpose Officer
Jamie joined Traditional Medicinals in 2019. She is a recognized leader with expertise in corporate responsibility, sustainability, shared value creation and employee and community engagement. She manages TM's sustainability efforts including risk assessment, Zero Waste Project, regenerative and carbon strategy, and supply chain data management.
In January 2022, Jamie's role officially expanded to include the Human Resources team. She leads TM's Diversity, Equity & Inclusion practice and also conducts long-term strategic workforce planning. Previously, Jamie was the Senior Director of Corporate Responsibility at McKesson, a Fortune 6 healthcare company. Prior to that she was the Senior Director, Employee Engagement and Corporate Responsibility at Visa and served as the Director of Community Engagement at the Alcoa Foundation for 10 years.
Jamie earned a MS, Leadership for Sustainability, from University of Vermont, an Executive Certificate in Strategic Reputation Management from Dartmouth College, and MBA, Strategic Management, Organization Behavior from The University of British Columbia and a BS in Business Administration, IT, Finance and Accounting from Duquesne University.