2013 Sustainability Report
Environmental and Social Sustainability
For our second annual sustainability report, we continued our commitment to ongoing improvement and transparency around practices in key sustainability areas. Sourcing more than 100 botanicals from more than 30 countries around the globe, our company works to support social justice and environmental health – from collection to cultivation to consumption.
We are committed to sourcing botanical ingredients that are produced according to independently verifiable and certifiable sustainability standards comprised of ecological, economic, and social sustainability criteria. Our goal is to help transform the commerce of herbs by supporting ethical and sustainable trade at every point of the value chain.
Developed under the Sustainable Food Trade Association guidelines, the following are selected highlights of our sustainability progress as of 2013: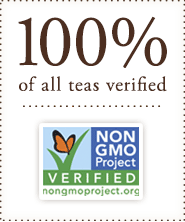 Non-GMO Top Priority
We are opposed to the practice of genetic engineering and believe the practice should be halted to prevent potential long-term risks to the environment and human health. We also see it as a serious threat to certified organic and biodynamic agriculture and wild plants. Until the practice is discontinued, we believe all products containing genetically engineered ingredients should be clearly labeled, and in 2013 we maintained the Non-GMO Project Verification for all of our herbal tea products.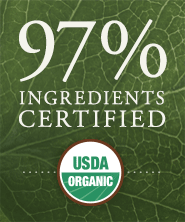 Organic Certification Protects Environment
In 2013, we purchased over 200,000 more pounds of our botanical raw materials than in 2012 and increased our overall organic percentage to 97.7%. To preserve and protect the environment and a way of life in communities around the globe, we are committed to certified sustainable agricultural methods as well as sustainable resource management and harvest of wild medicinal plants.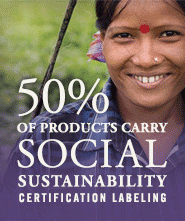 Committed to Social Justice
We believe that everyone deserves a fair wage for hard work. That's one of the reasons why we're committed to fair trade. We also view the quality, safety and efficacy of our herbal teas as being directly linked to good relationships with local, rural and indigenous people with sustainable livelihoods, who are empowered to steward some of the world's last remaining pure and natural ecosystems where the highest quality medicinal plants are harvested and grown. Over one third of our ingredient purchases by volume come with fair certification or through a company-sponsored social business relationship like the Revive! Project.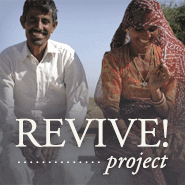 $1 million for Nurturing Community Welfare in India
We surpassed the $1 million milestone in total investment to the organic agriculture based Revive! Project. This social partnership focuses on reducing poverty, creating food and water security, enhancing community self-reliance, providing education and health services and empowering women among 12,000 impoverished villagers in the Thar Desert region of Western Rajasthan, India.
Protecting Native Medicinal Plants
Nearly 50% of the botanical species we use are wild-collected products of biodiversity. Working with United Plant Savers, we began a five-year commitment in 2013 to support the slippery elm tree, which is native to North America. This adoption via the Adopt-an-Herb program is part of our commitment to protect native medicinal plants and their native habitats while ensuring an abundant, renewable supply for generations to come.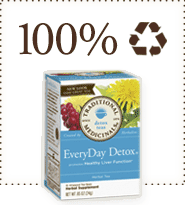 Setting Standards for Sustainable Packaging
Our tea carton packaging is made of 100% recycled paperboard, of which at least 35% is from post-consumer waste. We are always working toward increasing the sustainability of our packaging by searching for biodegradable, compostable and/or recyclable materials.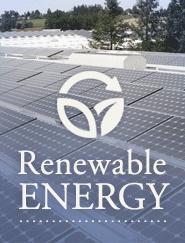 Powering Our Plant with the Sun
In 2013, solar panels provided over half of our total annual electricity use. During the long, sunny California summer months, we sometimes produce more energy than we consume at our headquarters in Sebastopol. In the winter, when days are shorter, we do purchase additional electricity, offsetting some of the impact with Green-e® Energy Certified Energy Certificates through the Bonneville Environmental Foundation.
Supporting our Local Community

We we honored to receive the 2013 Top Manufacturers in the North Bay award, as presented by the North Bay Business Journal. Of the 48 organizations we made contributions to in 2013, 31 were local educational and/or social and environmental justice organizations.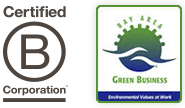 Certified B Corporation and
California Certified Green Business